54 Men's Hairstyles To Keep You Looking Sharp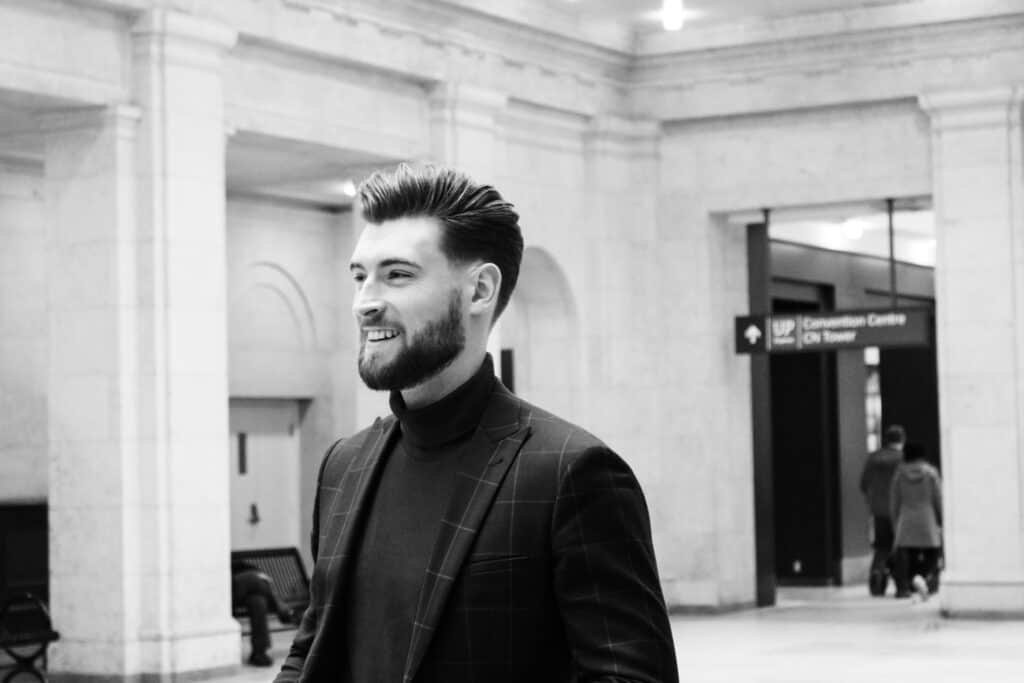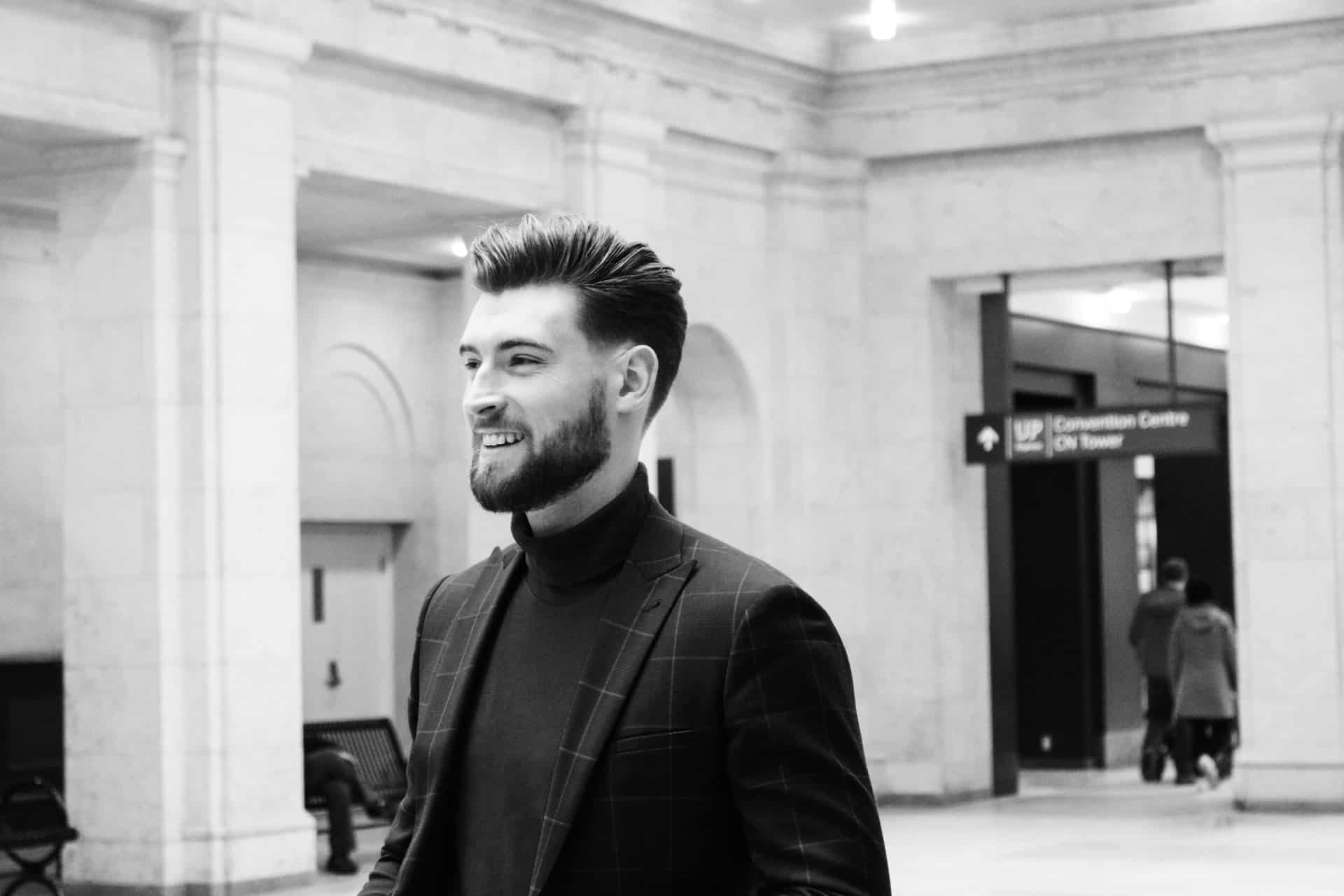 No offense, but we bet you can't tell more than 10 hairstyles for men… We knew it! Feel free to scroll down and find out new suggestions for your straight, curly, long, short, or medium-length hair.
This article is also great if you're looking to change the haircut you've been sporting for years. It's also fantastic if you're struggling to find the right suit for your face shape. Don't worry, we're here to help!
A survey by the Crown Clinic in Manchester, which treats people with hair loss, discovered that men change their hairstyles only four times during their years of adulthood. One in ten keep the same look in the years between 18 and 40 and only 5% change their hairstyle every year.
And even though we don't let statistics rule our life, changing a haircut may be rather positive than a negative experience.
Not convinced yet?
Here are some more stats that will make you think about your hair differently. Some of the reasons men change their haircuts are:
They are bored with their old look – 36%
Hairloss – 24%
Trends – 15%
Influenced by celebrities – 12%
And if you're neither of those you can use this article as an inspiration rather than a solution so go ahead and explore. However, if you are looking to make a calculated change in your look, we have provided plenty of information about each hairstyle included. And this is all to help you make the right decision because we know how important looks can be nowadays.
Classic cuts
1. Ivy league haircut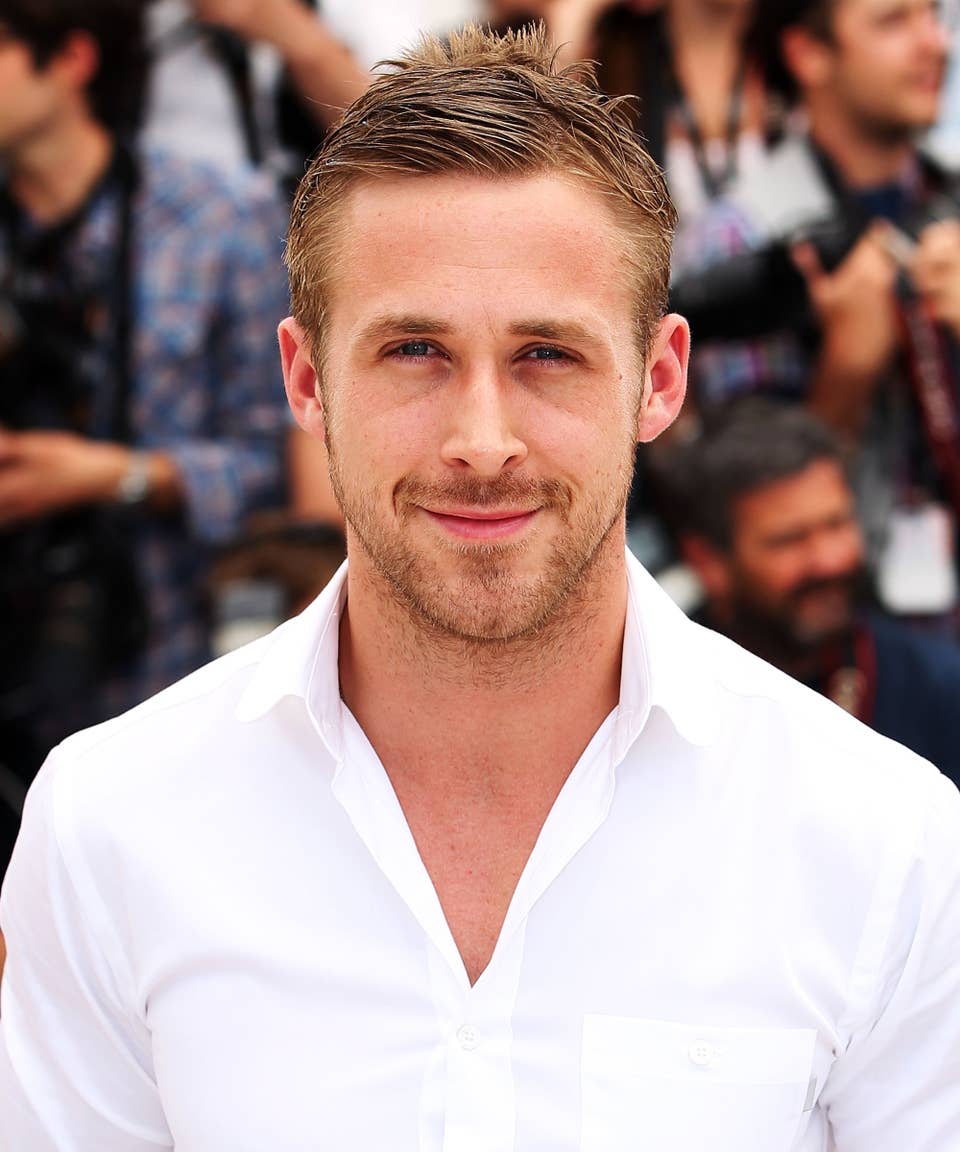 The Ivy League haircut is a crew-cut type of haircut that includes longer hair at the front of the head and shorter at the crown of the head. This allows it to be styled in a side part.
How do I ask for an Ivy league haircut?
When asking for any kind of hair cut make sure to explain and describe well what you want to your barber. Some of the details you should mention are:
The type of fade – low, medium, or high.
Whether you'd like a long fade, mid fade, or shorter one.
How long you'd like your hair on top.
If you want a side part or a razor hard part.
All of those components matter in an Ivy League cut because it defines the shape of the hair and the direction it goes. Discussing it with your barber before proceeding and asking for their professional opinion is highly recommended as not every type of hair is willing to obey the direction it's put into.
And even after having a chat with a hairstylist be mindful because explaining can sometimes lead to misunderstanding which then can lead to bad results. To avoid that here are some Ivy league haircuts you can show next time you go to the barbershop to avoid confusion.
2. Crew cut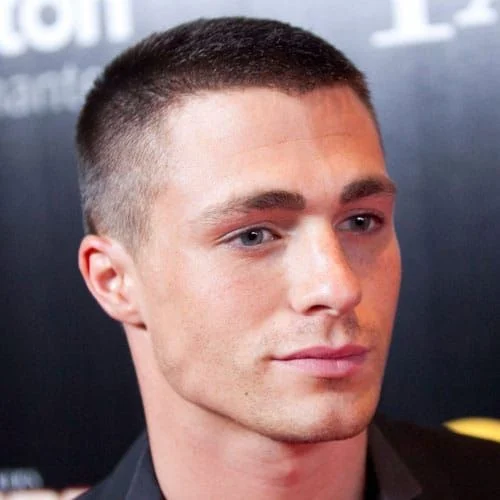 And speaking of crew cut types, a crew cut is a haircut that gradually goes longer from the back of the head to the front at the top and it's usually number four at the top. The sides and the back of the head are tapered in sizes one or two. The front of this style is often shaped in a short pompadour.
The name crew cut was first mentioned in the 1930s, describing the hairstyles of the Ivy League students on the rowing team or also known as the crew team. They had their hair cut shorter on the side and longer on the top to streamline their appearance and performance.
The crew cut was a key part of the students' performance in rowing as it was allowing the hair to stay out of their faces when rowing no matter what the direction of the wind is.
3. Messy French crop
Just like in the classical French crop, the sides and the back are short and the top is longer. What differentiates the types is that the messy French crop features a blunt fringe at the top. This hairstyle is also extremely easy to style. The fringe can be let forward or slicked back – you choose!
(pictures)
4. Classic buzz cut
In the past buzz cut was a haircut that originated from the army involving shaving the top, back, and sides of the head to a uniform length. Outside of the army, the haircut was very popular amongst celebrities in the early 2000s. Some famous faces like Justin Timberlake and Brad Pitt turned it into one of the trendiest cuts of the time. And even though the man bun and longer hairstyles are the trend leaders, the buzz cut will always make a comeback on the mens hairstyles map.
(photo)
5. Butch cut
The butch cut is part of the buzz cut family. It's a short, uniform cut, and the hair has the same length on all sides.
If you want to achieve the cut at home a guard of sizes 3 to 5 is recommended. This will give you a tidy butch cut. However, if you aren't sure about your skills as a barber, you should visit the salon. Another name for the butch cut is the brush cut, so ask your hairdresser for one of them and you'll get the perfect hassle-free cut.
This haircut is perfect for men who aren't fussed about their looks and want an easy hairstyle that doesn't require a lot of effort in the morning. It's also a good choice for young boys as it lasts long enough not to worry about it for a few months.
The cut is also great for men who are experiencing balding. The short style will make your hair look even on all sides and give you the perfect look.
(pictures)
6. Induction cut
Another cut that is part of the buzz family is the induction cut. This style is the shortest hairstyle after the bald head. This is also where the name comes from.
Like the buzz cut, the induction cut is a military haircut. Soldiers cut their hair short to prevent from getting head lice and other diseases when serving in close quarters. Having shorter hair also reduces the chances of the enemy grabbing a soldier with long hair and slashing his/her neck.
Another reason for soldiers to be forced to cut their hair short is psychological. The hair is part of the personality of an individual and making all soldiers look the same promotes the team mentality that military recruits should have.
Many men from all professions choose this hairstyle today because of its easy maintenance.
We approve!
(pictures)
7. Modern bowl cut
Even though the bowl cut is a subject of many jokes along with the mullet, it has made a major comeback in the past few years and it's here to stay.
The bowl cut, also called mushroom cut, is a simple haircut that became popular during the 80s. The front hair is formed and cut evenly in straight bangs and the rest of the hair is going around the head at the same length exactly like a mushroom cap.
And even though this haircut sounds easy to execute, do not try this at home. Making the hair even on all sides may be tougher than you thought.
The modern bowl cut is messy, edgy, and cool. The rebirth of the hairstyle has a new fresh feel and is a popular choice amongst youngsters with a modern, masculine, and punk style.
(photo)
8. Short Caesar cut
Gaius Julius Caesar – was one of the most remarkable generals ever, a fierce leader, and a legend for the Roman civilization… You'd think the Caesar cut was named after him but no. The haircut is often chosen by men with straight hair actually comes from the great emperor's nephew Tiberius Caesar Augustus.
Why?
We don't exactly know as both have similar hair but we can only assume that as a young man the nephew had a more modern approach towards his hair. And if that sounds bizarre, check this out – the only difference between both men's hairstyles was that Tiberius had straight bangs accompanying his thick hair and Julius was abundantly balding at the front. Therefore the balding man didn't become the influencer.
Interesting:
Julius Caesar was known for being extremely vain about his appearance and his attempts to hide his baldness with a comb-over and the iconic wreath crown. He even kept up with fashion trends and allegedly removed some of his body hair with tweezers.
(insert picture of Caesar with crown)
The Cesar cut is a low-profile, short haircut with a fringe. It's more often suited for straight hair but it can be worn with wavy hair too. The hair is layered to 2-5 cm (1-2 inches) all over.
The cut is extremely versatile so it doesn't matter if you have thick hair or fine hair we guarantee you good results.
This is one of the mens hairstyles chosen primarily by younger men and boys who participate in sports or high-energy activities.
However, it is sometimes worn by men who want to look younger or have found that this is their iconic style. A perfect example of this is the actors George Clooney and Gerard Butler.
(pictures)
9. Classic medium-cut
medium length hair is usually between 5 and 10 centimeters (2 to 4 inches) in length. However, this can vary. Consult your hairstylist about what length works best for you.
Medium-cut is often used to create a youthful and handsome look and it's a very popular choice amongst men.
(pictures)
10. Clean cut
The clean-cut hairstyle is extremely popular and consists of faded or shaved sides, a short back, and hair that's usually styled away from the face. This hairstyle is timeless and classical, therefore perfect for everyone.
You can't go wrong with this look.
Fade and taper haircuts
11. Fade with spike
The spiky hair fade is coming back in trend faster than you thought. With a fade on the sides, the modern spiky top is the main focus of the hairstyle. The top can be longer or shorter, messy or textured with a taper fade or undercut on the sides. This style is one of the best haircuts for men and a great choice for any hair length.
Another way to be worn is with messy spiky hair on top to give texture to the hair. This style is perfect if you want a bit of a different touch to the classic haircut.
The hairstyle is also very popular amongst celebrities. Christiano Ronaldo is one of the most faces we can often see sporting the cut.
(pictures)
12. Side part fade
The side part fade is a hairstyle where the hair is parted to one side. This style can be longer or shorter and the hair can be put on any side you prefer. This is a quick and easy way to style your hair when you don't have time. The hairstyle will give you volume and it will show that you have put effort into your look.
(pictures)
13. French crop with high fade
The French crop is a great short haircut chosen by many men over the years. The cut is easy, classy, and stylish. The sides can consist of a fade or an undercut and the top can be shorter or longer. So there is a lot to experiment with this hairstyle but whatever you do, you will be left with a lovely and timeless haircut. Styling the crop is easy too, it only requires you to use some matte hair product to create texture.
Nice and with minimum effort required, the modern French crop could be your next new hairstyle! Choose from the crop top fade to textured cropped fringe, we guarantee you a great look.
(Pictures)
14. Low fade
The fade is a technique used to add a touch of edge to any hairstyle. With the low fade, the side hair is tapered down to the lower part of the head.
This hair technique is considered to elevate a hairstyle and make it more classy and elegant rather than funky.
The low fade is very versatile and therefore very commonly seen.
Here are some of our favourite low fade combos:
(insert photos)
15. High top/Hi-top fade
Is there a more hip-hoppy look than the high top? Sure not!
The hairstyle became popular in the 1980s with the uprising of hip-hop culture in the US. The cut quickly became a number one choice for black men and many weren't afraid to experiment with it and create their own interpretations.
To create a cool haircut combine the fade with a hipster beard or even fade art. This is a great choice for men with thick or fine hair.
One of the people who made the hi-top fade popular is the legendary Will Smith. To continue his father's legacy but in a modern way, Will Smith's son Jaden Smith has his own version of the high top.
(insert pictures)
16. Crop fade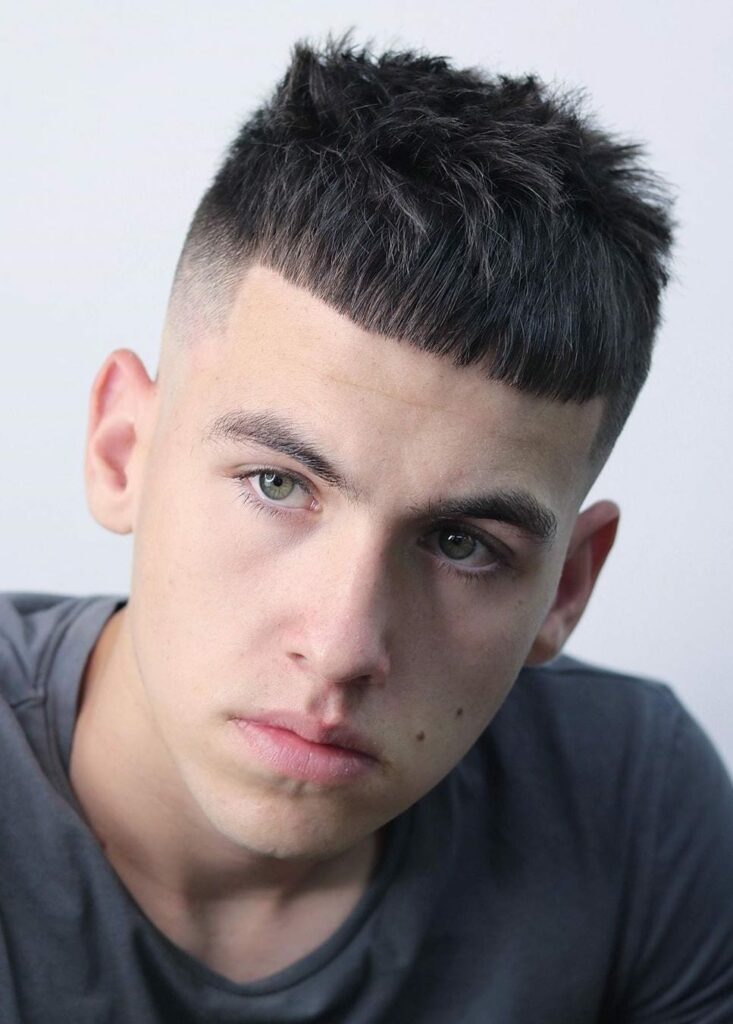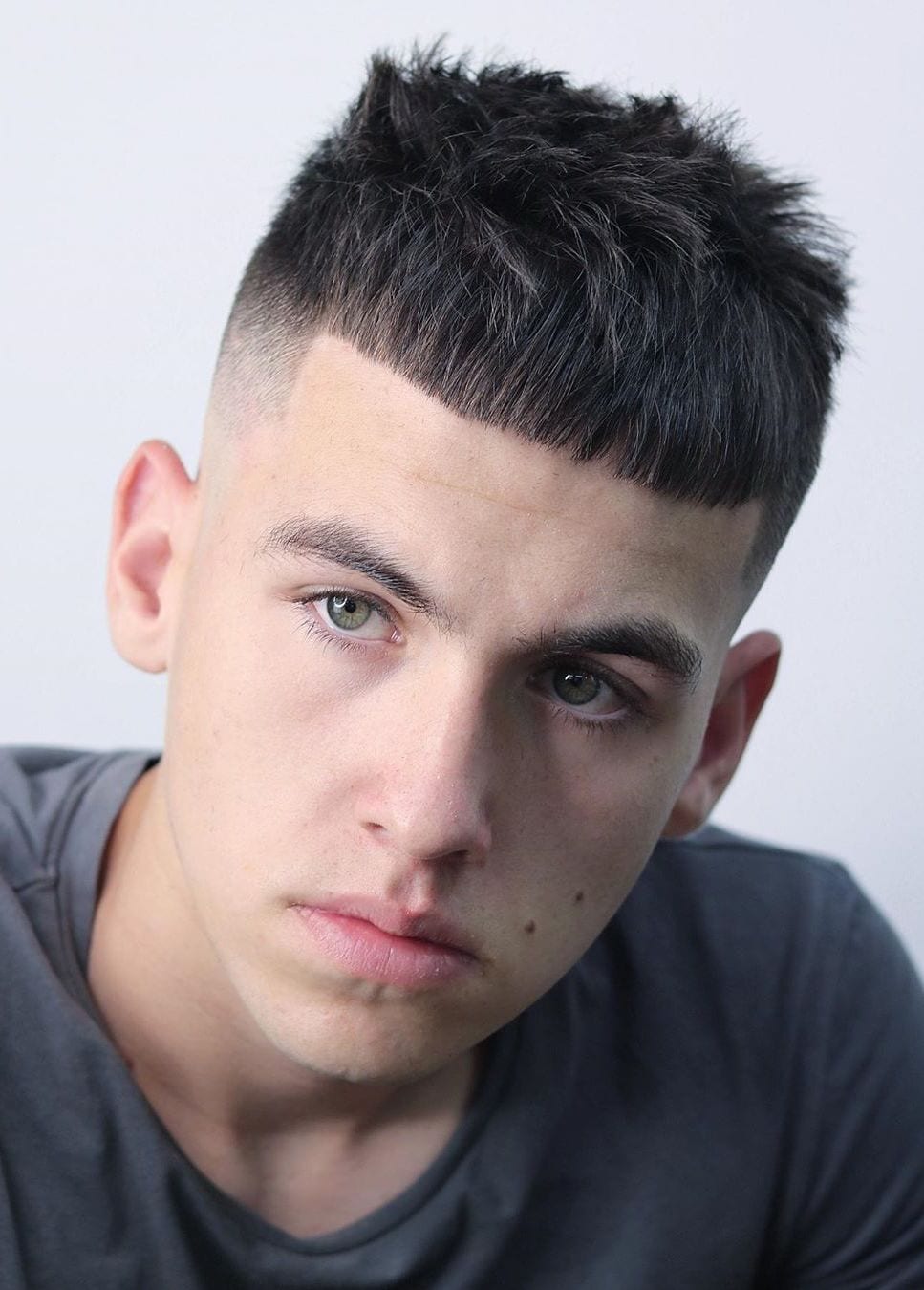 The crop hairstyle is a short textured haircut that can be worn in many different ways. In combination with a fade on the back and the sides, with a shorter or longer fringe for a more edgy look, this hairstyle is extremely versatile and modern. This cut belongs to the super-cool fade haircuts for men and is perfect if you have thick wavy hair, thick curly hair, or even short spiky hair as it can come in any length as long as there is a fade on the sides and mid fade at the back.
17. Taper fade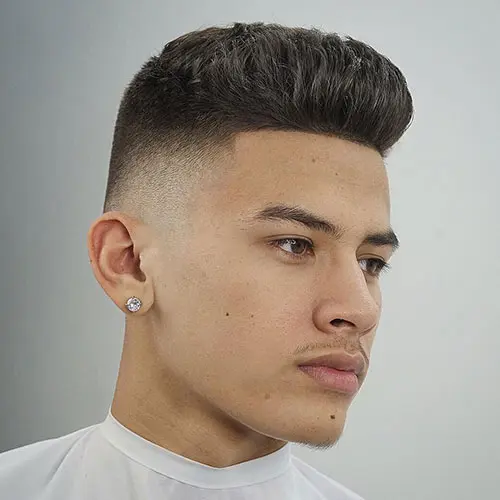 Another one of the men's haircuts belongs to the fade family. Considered a cool haircut the taper fade looks great on naturally wavy hair but just like the crop fade, it can be worn with any thicker hair or even with curly hair and long hair.
The taper is when your hair gradually transitions from short at the back and the sides to longer hair on top. A tapered haircut only appears in two areas – the sideburns and neckline. The fade is just a shorter version of the taper.
Usually, the hair is tapered from the scalp to 1 cm (0.4 in) in length and 2 cm (0.8 in) from the edge of the hairline. The rest is approximately the same length – 2-5 cm (0.8- 2 in), to your preference.
Another version of the taper fade haircut is the blowout taper which was made popular by the "Gotti Boys" in the US on their reality TV show called Growin Up Gotti. The blowout was featured in the reality series Jersey Shore and the hairdo influenced a lot of youngsters at the time (2009- 2011).
Somewhat forgotten, the haircut for men has made a gradual comeback to become one of the most popular men's hairstyles in the last few years. It's perfect because it includes skin fade and can be combined with a curly fringe or even long bangs. The cut is one of the best hairstyles and it doesn't require a lot of maintenance. However, if you want to enhance your hair's natural texture you can use a skin fade comb or matte pomade to create a slick back hairstyle.
18. High Fade with medium length hair
The high fade as we mentioned earlier is a great compliment to all haircuts for men. Easy to maintain and extremely modern, the high skin fade is a short haircut on its own invented to maximize the contrast between the top of the head from the back and the sides.
Combined with medium-length hair on top the fadings' role is even bigger.
You can ask your barber to cut a high taper fade, undercut fade, or even a high skin fade. They can also add a line, a hard part, or a design of your choice. In addition, they can form your hair at the top into a medium length to enhance the whole look.
You can get very creative with this hairstyle.
19. Wavy low fade
The low fade is a technique used to add an interesting touch of class and elegance to any look. You can combine any hairstyle with the low fade but wavy hair is one of the best choices. This way the waves are separated by the sides of the hair and there's an emphasis on the separation. This hairstyle is incredibly versatile and suits men of any age.
20. Artistic fade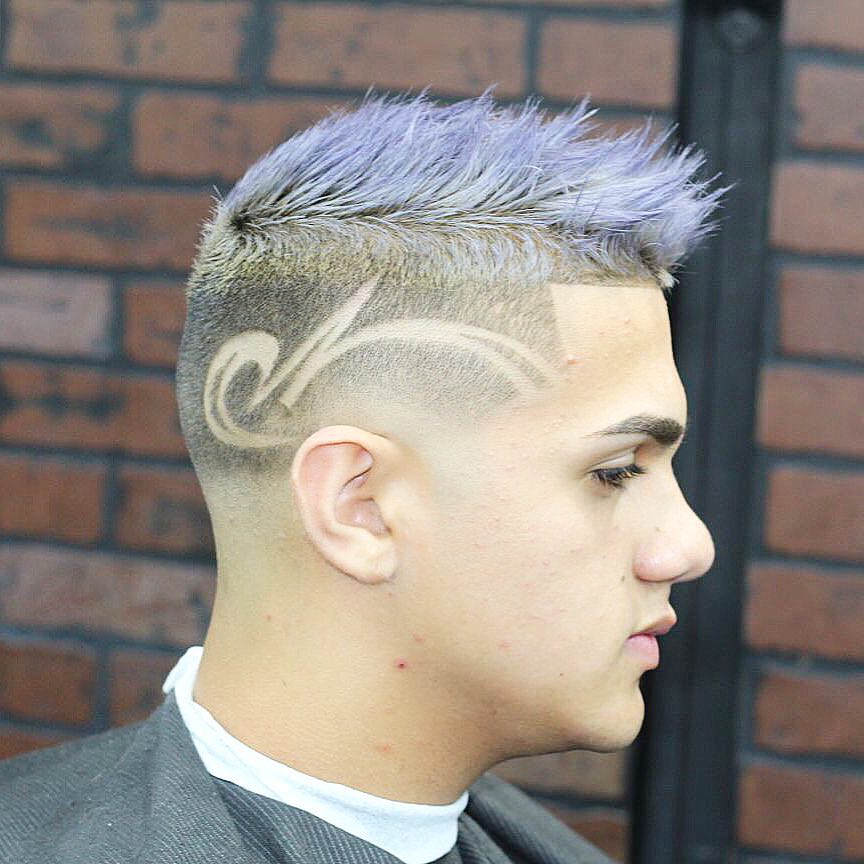 Every decade showcases a new version of the fade haircut according to the trends and adapted for the youngsters. The fade is chosen by many men of all ages, but when it comes to the artistic fade, that is usually one preferred by young men and boys.
This hairstyle includes an unusual fade in a certain shape combined with any hairstyle.
The look is very popular for little boys who love a certain show or character and want to express it through their hair.
The artistic fade is also a great showcase for musicians, football players, and other men of creative jobs.
The only downside of this hairstyle is that you will need to visit your barber more often than usual as the fade will grow out.
21. Medium length hair with sideburn fade
Most men, if not all know that their sideburns are extremely important for their look. They can make or break your style. And if you haven't thought about it, now is the time.
There are a few things you have to consider before deciding how to form your sideburns. Trimming them can help frame your face and enhance your head shape. Connecting them to your beard can work in your favor too. Some of the most popular men's hairstyles require cutting the sideburns to match the look, specifically when you need to blend the sides with your facial hair.
Sideburns can help you look rugged and masculine, so if that's the look you're aiming for, do not think twice.
There are many types of sideburns. Consult your barber to find out which sideburn style will suit your face the best.
Here's some advice when it comes to sideburns:
Except your bald, always have sideburns.
Do not go above the mid-ear when trimming your sideburns.
Remember the ears are often different so don't compare them.
The width should be natural-looking.
Be stingy with the trimming, don't get carried away.
cut the sideburns at an angle following the jawline.
And because celebrities work with professional hairstylists, it is very unlikely to see a famous man without sideburns.
(pictures)
22. Tapered and Spiked hair
Now, this is one of the unusual combos in mens hairstyles. However, it is a style that would suit some men to the point that they won't change it ever again.
We already mentioned the tapered style a few times so let's talk about the spikes.
What is spiked hair?
Spiked hair or also known as liberty spokes is hair formed into thick, upright spikes. The style has been associated with the punk culture for a long time as well as many other hairstyles but in recent years it's been freed of such assumptions as now styles are mixed and people don't assess you by your appearance as much as before.
The hairstyle is called liberty spikes because of the Statue of Liberty herself who was inspired by the Roman goddess Libertas.
Combined with a taper fade, the look becomes modern and suitable for men of all ages and backgrounds.
(pictures)
23. Tapered Afro
The afro taper fade is one of the best ways to style curly hair. The afro is very often combined with the fade haircuts and they look fantastic together. The taper fade is the smallest type of fade, tapering the hair only at the sideburns and the back of the neck.
Overall, this haircut is a great choice if you have beautiful thick hair and are wondering how to put it together.
One famous face seen with the tapered afro is Raheem Sterling. The football player is often seen with extravagant haircuts during the years but we stan for the tapered afro.
24. Curled and tapered haircut
The curly taper includes short hair on the sides and back which gradually blends to shorter hair. The curly taper is sleek and clean and perfect if you like the attention on your curls. The haircut is versatile and can be worn in low, medium, or high taper fade.
Many men choose it because of its practicality and we don't judge them. It looks great and it's a fantastic way to showcase your gorgeous natural curls.
Top hair
25. Curly quiff
A quiff is the top hair brushed upwards and backward from the forehead. It's easy to obtain and it doesn't need many instruments.
The style is one of the most popular curly hairstyles with its versatility and is extremely popular amongst many musicians, especially rock stars.
How to ask your hairstylist for a quiff?
The first thing you need to tell them is that you want a close buzz, between numbers 1-1/2 at the neckline. Then followed by a mid-level fade going up to the top, which should be left longer – about 3 inches long, so a quiff can be formed.
There are many ways to curl your hair if you don't have naturally curly hair. Use styling products such as gel and spray for longer-lasting hair.
Zayn Malik is one of the celebrities who made the quiff very popular.
The quiff is also a classic skater haircut, worn by many young boys.
26. Modern quiff with undercut sides
The modern quiff is less rock and roll which makes it a great hairstyle for men who like to be in with the trends and want to have an effortless look.
Aim for 3 inches or longer hair on top for a good quiff. A length of 4 to 6 inches will give you more volume to work with. Although the quiff is commonly known as a medium-length hairstyle, it is very often done on shorter hair too.
Like the pompadour, the quiff can be worn with any hair length, which is why many men (and some women too) choose it as their go-to hairstyle.
To keep a good quiff you'll need some good quality products too. Use pomade, gel, or wax for longer-lasting hair. Pomade will make your quiff shiny, whilst gel and wax will create nice textured hair and keep the volume.
The undercut sides are a great addition to the outfit as they define the quiff better and give it that modern and interesting look.
27. Classic pompadour
The pompadour hairstyle is named after Madame de Pompadour who was a mistress of King Louis XV of France in the 18th century. And even though the famous lady influenced a lot of people back in the day who copied the hairstyle, today the cut is slightly different.
But before we have a look at modern pompadour we can't mention that dressing the hair with pompadour became popular in the early 20th century. People were so obsessed with the idea of the pompadour hairstyle that men were brushing their front hair back, and women were using pads to create volume and form it into a pompadour.
Nowadays, pompadour is one of the popular men's hairstyles chosen by many men of all ages. It consists of medium-length sides that can be combined with a high to medium fade. The top part of the hair is usually longer so it can be brushed back. The sides are neatly combed back creating a sleek look.
One of the people who made the pompadour hugely popular in the 20th century is the King of Rock – Elvis Presley. He wore the pompadour on and off stage, making it iconic for that time. This influenced a lot of young men to copy it and was a landmark for rock music in the 1960s and 70s.
28. Medium Pompadour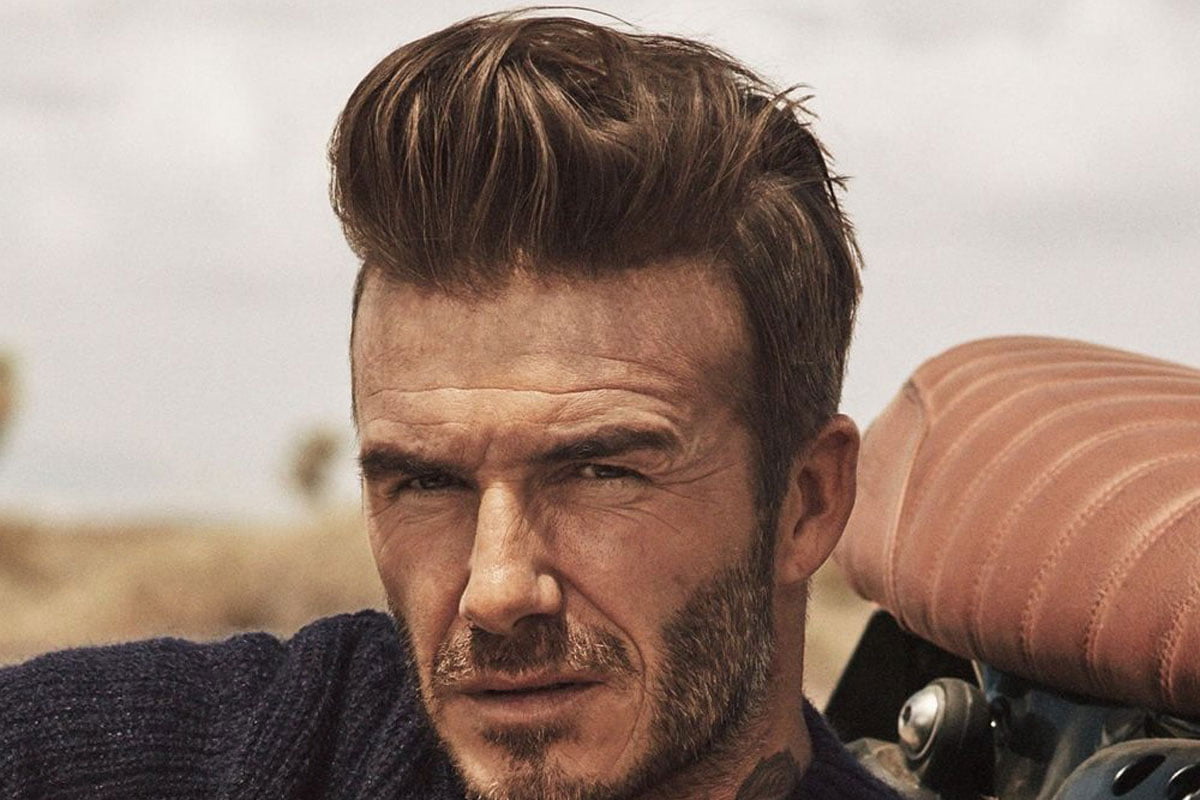 This is the medium version of the pompadour. And as similar as it is, there are still a few differences. The mid-length pompadour is perfect for modern-day gents. It is short enough to be considered smart and long enough to be cool and exciting for styling. This haircut is everything men are looking for. You can wear it messy or sleek and this is completely up to you to decide. However you choose to style your hair, you'll be considered fashionable.
29. Flattop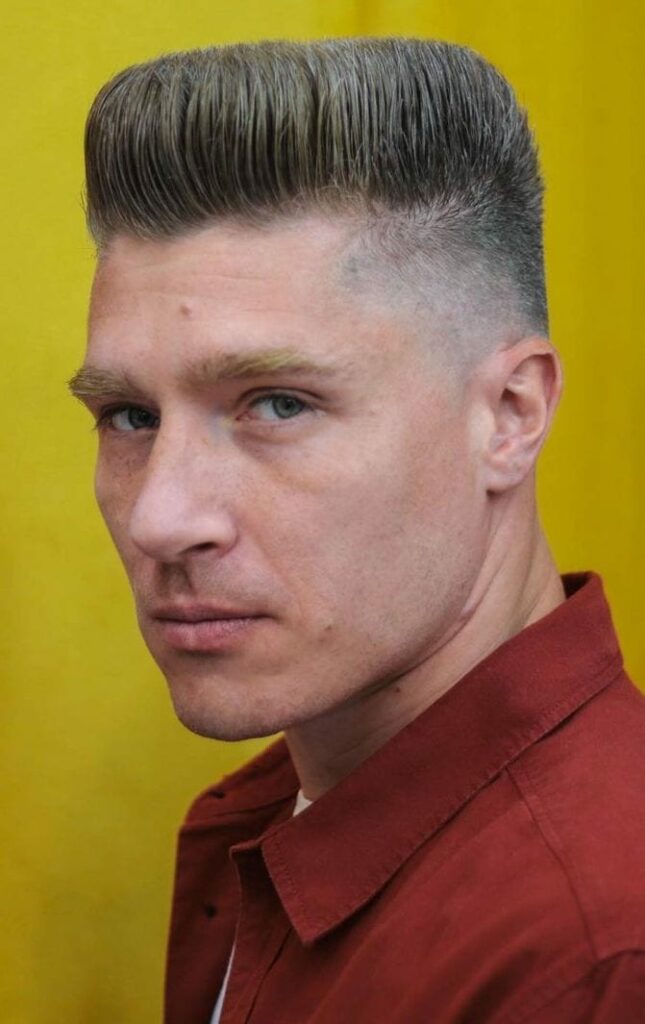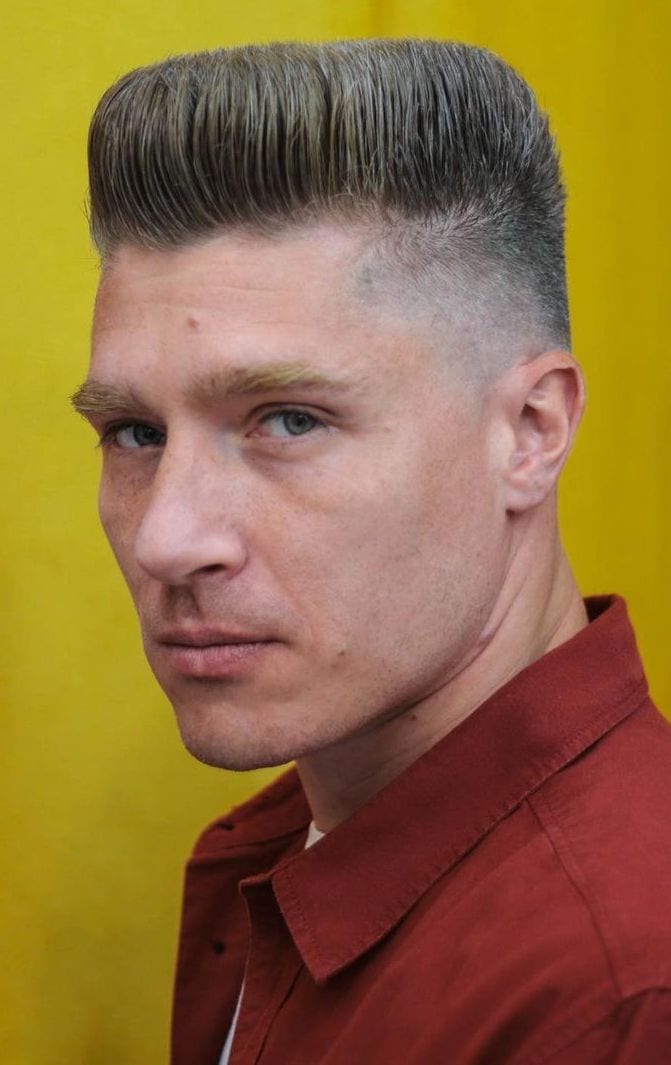 Like freshly trimmed grass, the flattop hairstyle consists of hair standing upright and equally cut on top. The look has a flat-appearing deck and is considered quite of a conservative haircut.
However, the haircut looks very stylish and it never goes off trend as it has become part of the hipster looks. If you have thick hair this is a hairstyle you might like as the thicker the hair the more volume and texture you'll get.
30. Modern Mohawk
The mohawk is well-known as a hairstyle often picked by gents with a rebellious spirit. It includes two sections of the hair that contrast each other or sometimes pointy hair with a bald base. The hairstyle is considered very dramatic and punk is very often associated with members of the public who enjoy stronger music genres such as rock and roll, punk, and metal.
The Mohawk is the perfect hairstyle for people who describe themselves as edgy and have jobs that do not require them to wear suits or have a uniform haircut. This hairstyle is great if your job is in creative fields such as art and music.
However, this style has gone under a transition during the years and nowadays can be seen in many variations and worn by any members of the public. The modern mohawk has a softer look and it's adapted to suit the needs of anyone. The contrast between the two hair parts isn't as harsh as it used to be in the 90s when this look became widely popular.
Although the style has come a long way since its inception, it's still a great choice for gents looking to do things a little differently than the masses.
Interesting:
The name of the mohawk originates from the Native American tribe named Mohawk. The Mohawk warriors would shave the sides of their heads before battle, leaving a thin strip down the middle.
The name itself comes from the way their enemies called them meaning "man-eaters." The nickname doesn't necessarily mean that they literally ate their opponents but indicated that they were fierce warriors. For the members of the tribe, mohawk means "people of the flint."
The tribe lived in the lands of today's Pennsylvania, New York, and Canada during the 1600s and was part of the Iroquois Confederacy which was made up of five different Indian tribal nations during the time and later on joined by a sixth nation to complete it.
Nailing his role in the hit series Glee, Mark Salling was one of the most famous faces accompanied by a mohawk on the screen. Another celebrity seen with a mohawk is David Beckham. Although the football player seems to have tried all hairstyles out there, he looked like he enjoyed the mohawk a tad more than other cuts.
And when speaking of a mohawk we must mention a rockstar who was seen wearing one. Our choice is Jared Leto with his extraordinary pink mohawk moment. Enjoy!
Another one of the best men's haircuts nowadays is the faux hawk which resembles and it origins from the mohawk.
This is a men's haircut that has a central ridge of upright hair but the sides are gathered and slicked upward or back instead of shaved
Undercuts
31. Disconnected Undercut
The disconnected undercut has its name because the hair on top isn't connected to the hair on the sides. The transition between the two hair parts isn't as gradual as in most haircuts for men and there's a clearly defined point where the long hair stops and the short one begins.
In a classic undercut, the hair on top and the hair on the sides is blended gradually and this is the difference between the two styles.
Many football players enjoy this hairstyle as it's short and comfortable and it accommodates their needs. Another well-known face we have seen paired with this cut is Brad Pitt's. Very much like, David Beckham, we have seen Brad Pitt wearing different kinds of hairdos over the years and influencing men all over the world.
32. Side swept with undercut
This haircut requires long hair on top and short or no hair on the sides. The center of this cut is the contrast between the top and the sides. So if you want your hairstyle more defined you can ask your barber to shave the sides and the back to bald or number 1.
Like many hairstyles, the side-swept undercut has gained popularity in recent years but we can guarantee you it won't be going anywhere for a long time. It is one of those haircuts for men that once it sets foot on the trendy podium it won't move away.
Sweep the top part to any side for a cool look or to the back for a classy one.
33. Classic medium undercut
The undercut can be from short to medium-length style that contrasts the top with the sides. The hair is long on the top and the sides are buzzed short.
The undercut creates an emphasis on the hair on the top of the head and separates the sides beautifully.
Comb-over
34. Side shaved comb-over
The comb-over is considered to be one of the cool haircuts for men as it required getting rid of a whole section of the hair. It's very daring and not for everyone. However, for those who have it, the haircut comes with a certain attitude and is loved by many.
For quite some time the hairstyle was a favorite amongst brokers and salesmen but since it was seen on celebrities such as Justin Timberlake and George Clooney it was reinvented. The new modern version is more versatile and contemporary and works on almost any face.
The look can be adjusted to all hair types and it has been seen in many versions. It can include a neat slick back or a curly hairbrush over. However, worn it's considered a cool men's haircut and is commonly chosen by many men.
The comb-over can be combined with different types of fades. A low fade will give you a more conservative and traditional look. A mid fade will make the look edgier, especially if combined with curly hair on top.
The comb-over is a timeless hairstyle and one of the best men's haircuts chosen by many gents around the world.
35. Curly Comb Over
And speaking of comb-over with curly hair on top, this look has become one of the most popular men's hairstyles over the years so now it's not only a version of the comb-over hairdo but it's a hairstyle on its own.
As we mentioned earlier, if you happened to have wild curly or wavy hair, do not hide it. One of the best haircuts to enhance the beauty of your hair is the comb-over. As your hair is already quite textured you won't need to do much or use such things as a blow dryer or heavy gels. However, what you can do is to go out with damp hair and let it sit as it wants (remember when we mentioned that your hair has its own mind?).
Our recommendation is to combine the comb-over with a mid fade to create the perfect mid fade haircut or even with a high skin fade if you are a bit more daring.
The look will certainly help you get popular with the ladies too.
After all, do they not say "curls get the girls?"
Layers, waves, and long hairstyles
36. Natural medium waves
What we can assure you of is that your hair has a mind of its own. This is why very often our hair is having a bad day exactly as if it was a person on its own. We have to mention all of this when speaking about waves and wavy hair as this is one of the mens hairstyles that are the most frivolous. The natural medium waves are a cool hairstyle even though they may not necessarily be part of the classic men's haircuts.
This hair type has a lot of texture and volume, which adds up to its character. To professional barbers and hairstylists, wavy hair is considered the holy grail of hair types. So if you're blessed to have this type of hair do not try to hide it behind a crew cut, tapered haircut, angular fringe haircut, bald fade, mid fade, skin fade, or any fade for that matter. Don't turn it into short wavy hair or a short curly haircut, we advise you to let it free and be proud of the blessing you have.
37. Classic brushed back
The brushed back hairstyle is one of the most popular mens hairstyles back in the day. However, because of its easy-going look, it has gained back its popularity in recent years. It contains the hair on the top of the head being brushed back or styled upward in a messy or slick fashion. The sides are usually cut short, undercut, faded, or even tapered. The hairstyle is similar to the quiff.
If you have ever watched the modern version of the cult series Hawaii Five- 0 you would've seen the brushed-back look worn by the actor Scott Caan in the role of detective Danny Williams.
He can be seen wearing the look with a fade on the sides or even with a shortcut during the seasons of the show.
How to keep your hair brushed back?
Start combing from the ends, not the root.
Let it rest.
Use the right products.
Gently pat the product on the top of your hair
Distribute the product evenly
Comb everything straight back before the product has dried.
Don't touch it!
Finish it off with hair spray.
38. Grown out layers
Although layered haircuts are considered more suitable for women, guys tend to love them.
Why?
For starters, they are extremely versatile and stylish as well as low maintenance and pleasing to the eye. They flatter the face and enhance the texture of the hair. They are a great solution if you find yourself having thin hair because they create volume and add to the texture of the hair.
Intrigued?
We can't think of any cons about the grown-out layers because there simply aren't any. The structure is pretty distinctive so the hairdo won't be confused with any other. The top bit has the shortest length, contrasting with the section around the hairline which is usually the longest. The midsections are cut to create a transition between the short top and the longer bottom.
The haircut suits men of all professions and ages and is great for any type of hair.
39. Easy swept-back layered style
How to achieve this look?
Towel dry your hair until damp.
Apply the chosen product to your hair, distributing evenly through the longer sections.
While still damp comb your hair towards the back of your head.
Allow your hair to dry naturally for a looser slicked back look, or blow-dry your style into place for added volume and hold.
If you want a shiny finish, comb your hair straight back. For a natural, textured brush back, don't brush too hard as this could flatten your curls.
You can finish it off with some hairspray for a completed look.
40. Shoulder length side part
The shoulder-length hair separated at a side part is a hairstyle that we embraced ever since the 60s and 70s. With the huge influence of rockstars back in the day the hairstyle has become one of the most popular styles chosen by men.
The best way to side part your hair is to check your cowlick (the swirl near the crown of your head). If the swirl is in a clockwise circle, part your hair on the left. If counterclockwise, part the hair on the right.
However, if you're planning the side part for a long hairstyle, then you can part your hair to any side as it'll be long and heavy enough to hold.
41. Curly hair
If you have naturally curly hair you can go ahead and consider yourself a lucky man. This means that your hair has more texture and volume than men with regular hair. Many men are trying every morning to achieve what you already have, so we suggest you cherish it.
Now don't get us wrong, we do understand that curly hair can be hard to maintain, brush, or even shower but we have a few tricks up our sleeve to help you.
Shampoo less often because products often strip away the essential scalp oils that keep the hair hydrated.
Find the right products for your type of hair. Read the back of the bottle.
Try co-washing. Co-washing is when you switch the regular shampoo with a curl conditioning product. This will gently clean your hair without removing any of the important oils from the scalp. Co-wash only once a week for best results.
Find the right styling products for your hair. See what works and what doesn't. Every hair is different.
Use a diffuser or air dry to keep the natural curls.
And because it's hard to see the real length when you're hair is curly, you might need to wait longer until the hair is heavy enough to flow down.
42. Dreadlocks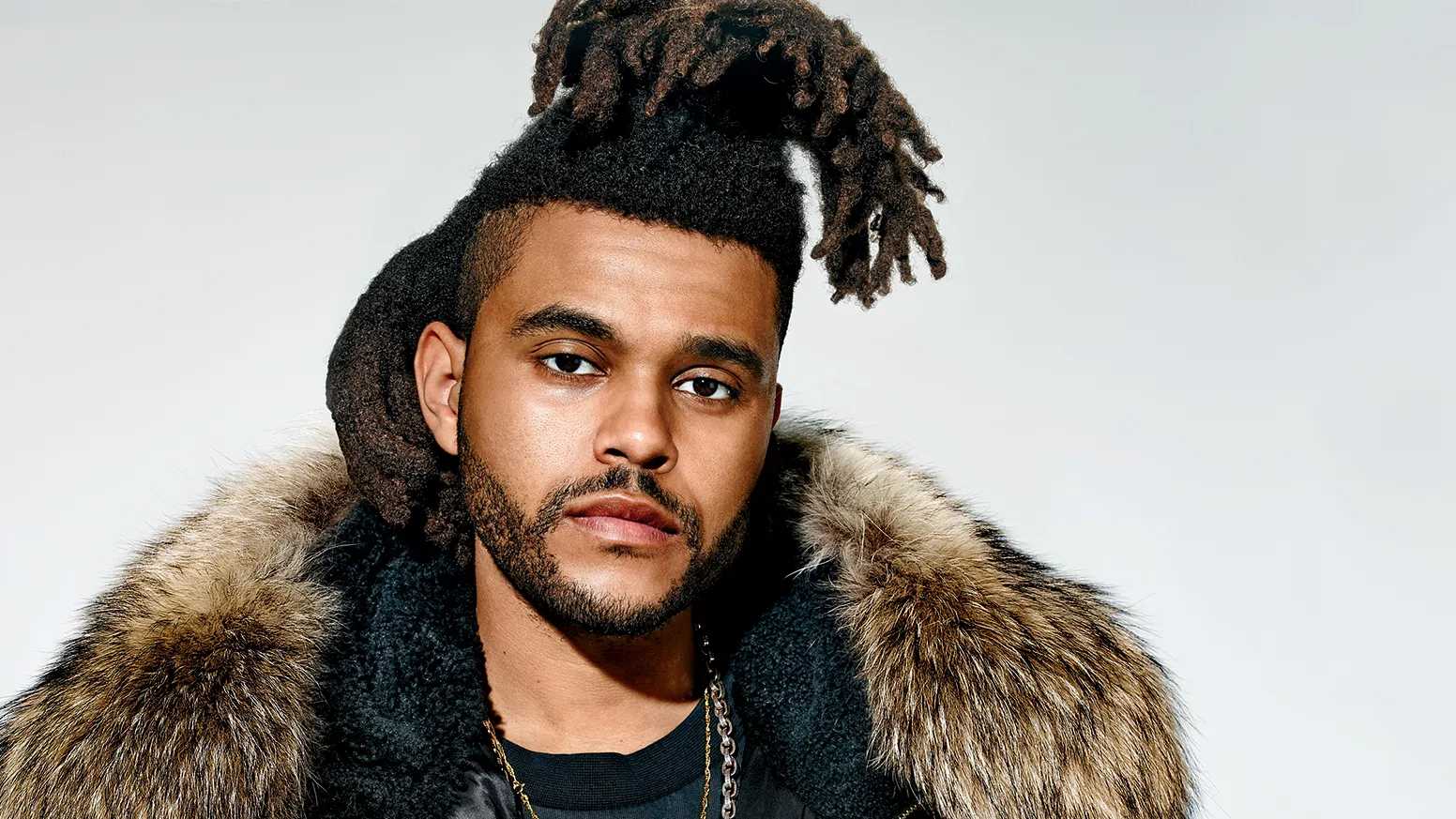 The dreadlocks are an extremely easy way to style Afro hair and they look as cool as ever. They are also a popular part of the Rastafarian culture.
For many years they have been either loved or hated, but not anymore. In recent years the dreadlocks have found new popularity amongst many. Seen on the catwalks, worn by celebrities, they are making a comeback, and now is the time to get them if you ever had that desire but were not sure.
And to show you exactly what we mean, we won't insert a picture of Bob Marley or Snoop Dog but a picture of somebody young and famous who has embraced the locks with nothing but pride.
43. Layered Bob
The Bob has been in since forever and we stan for it. However, adding layers to a Bob can elevate it to a whole new dimension. This is the new, fresh look of the millennium and isn't just something that Billy Ray Cyrus came up with and Jamie Lannister rocked in GOT.
Layering a bob works for all hair textures and face shapes and is here to stay.
44. Wavy long locks
As we mentioned earlier, wavy hair is on-trend more than ever. People tend to appreciate their natural beauty far more today than in the last 20 years. So if you find yourself with naturally wavy hair and are wondering what to do – long locks are the answer.
The look became widely popular in 2020 and it hasn't moved ever since.
45. Messy hair
It is a real gift for those who are fortunate enough to be able to grow thick hair and adjust it to their look and style.
However, if you're still trying to figure out your hair and put it together in a hairdo, don't. You don't have to. Letting your hair down and the mess look has its advantages too.
This style will give you the look of somebody who didn't sweat much over their appearance but people will still appreciate the beauty of your long healthy hair.
Messy hair, don't care!
Ponytails, buns, and braids
46. Short ponytail
The man ponytail has become very popular during the years and fits all types of hair textures as well as colours. It's extremely practical and it doesn't look bad either.
This is the perfect hairdo for when you don't have much time or don't know what to do with your hair.
47. Low bun
As long hair became more popular amongst men, the low bun also gained popularity. It is a practical way to pull the hair away from the face whilst still maintaining that bohemian appearance.
How to achieve the perfect low bun?
Let your hair down as you would usually wear it.
Have a hair tie ready on your wrist.
Gather the ends of the hair twisting them at the back.
Create a bun with the already twisted hair.
Seal with the tie.
Don't tie it up too much.
Keep it a bit loose for that natural-looking way.
The low men bun is the low-key version of the high top bun which has started a lot of conversations over the years.
And even though, the low bun is a hairdo used by women mainly, combined with a thick and full beard it'll give you that rugged, masculine look most men dream for.
48. High top bun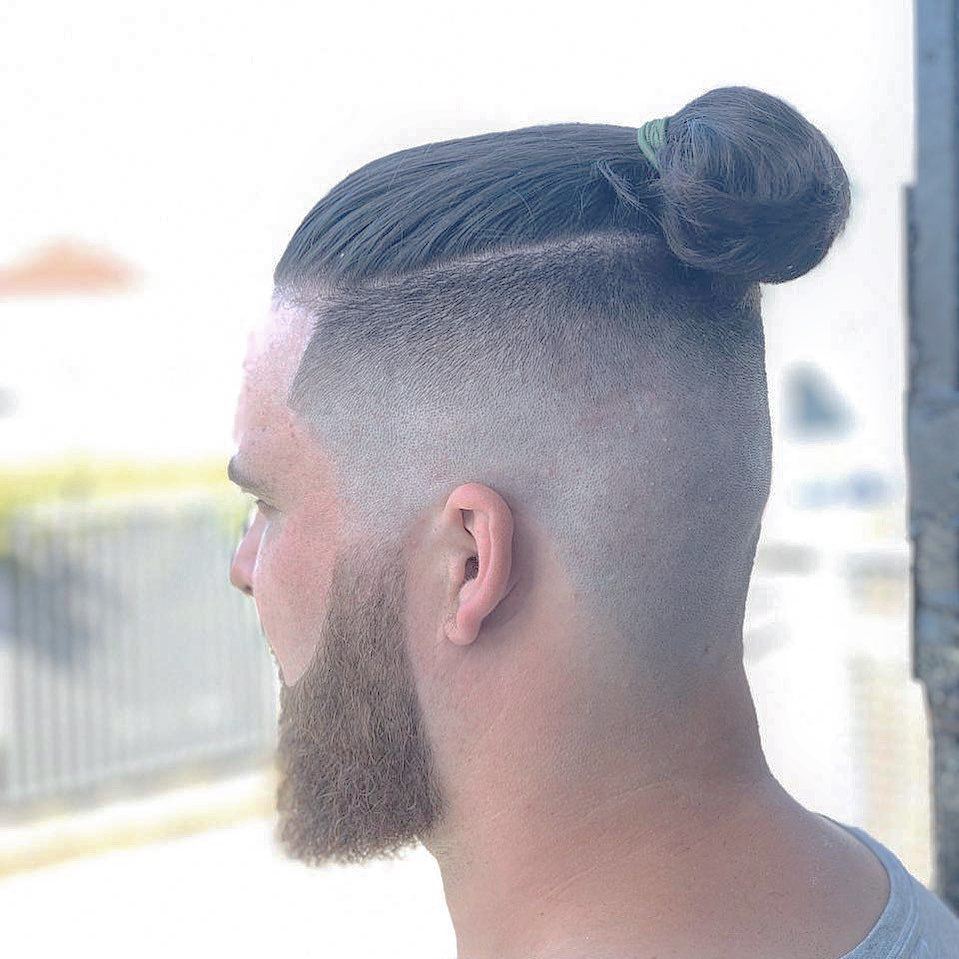 After the mullet, the high-top bun is the next most controversial men's hairstyle that provoked a lot of debates. However, we have come to terms with it and it has become one of the most chosen hairstyles for men.
The practicality of this hairstyle is beyond. It is perfect for the gym, for your daily tasks, and even for getting a cocktail in a five-star hotel.
Can a man bun be professional?
Having a man bun should not be a problem when it comes to working appearances. If you wear your man bun with confidence, you won't find a soul that will tell you it is wrong. Discriminating against people based on their appearances has been left back in the past ( we sure hope so) so unless your office is extremely strict or you work a job in which having long hair is a disadvantage of some kind, you shouldn't face any problems.
The style is popular enough to be widely accepted and not only that but it is considered to be one of the most popular haircuts for men now.
49. Messy bun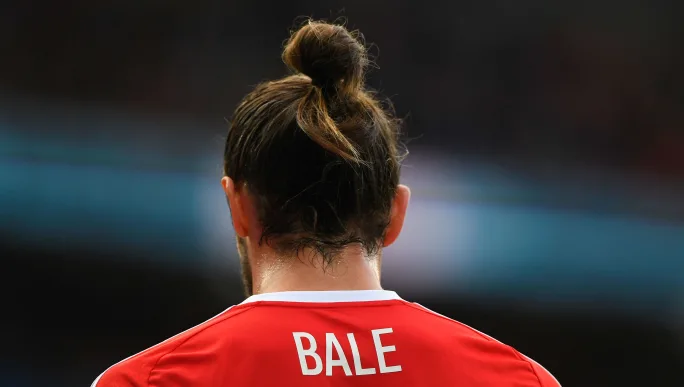 The messy bun – popular amongst all, is pulled-back hair, formed into a relaxed bun. The hairstyle became extremely popular in the last ten years.
Worn by many celebrities, the hairdo dates back to the Joseon Dynasty in Korea and Japan during the Edo Period.
Some of the people who made the bun popular are the football player Gareth Bale, Harry Styles, and Jason Momoa.
If you have long curly hair, the messy bun may also be a great choice for you as you'll have more material to work with.
The hairstyle is easy to create and it doesn't require any tools other than a hairbrush and a hair tie plus you will surely find yourself a subject of female attention.
50. Braided top with a bun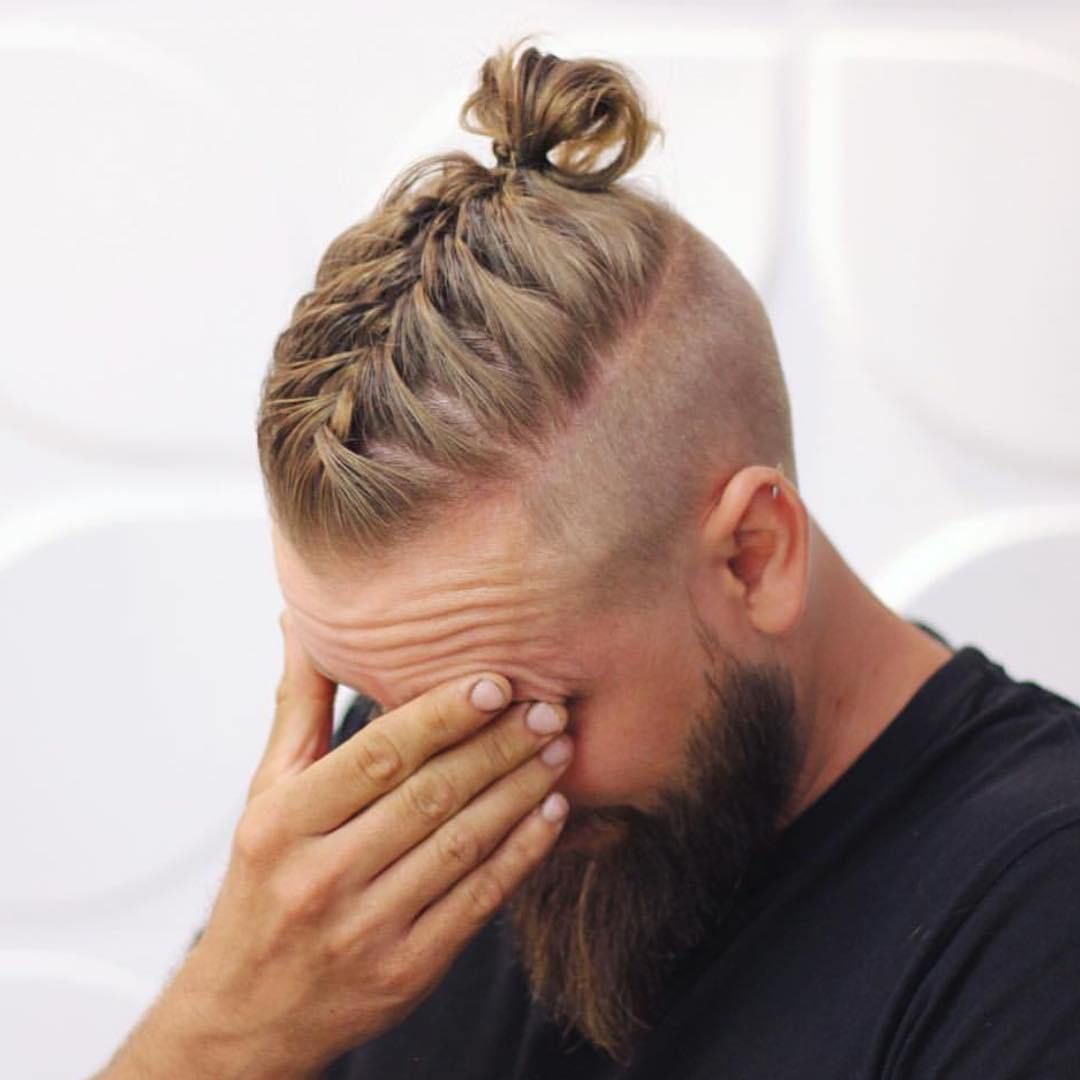 This Viking hairstyle has gained a lot of popularity in the past ten years due to the exceeding interest in Vikings' life created by the hit series Vikings.
Although the Vikings have lived in roughages where taking care of their appearance has never been their purpose in life, they maintained good hair for different reasons.
The hair for the Viking was his manhood, social status, and power source. Many Vikings get their nicknames according to their haircuts. Most of them liked to keep their hair braided as this was a huge part of their culture.
Many well-known braids today originated from the Viking culture.
Having your hair in a braid shows that you have spent time on it and you take good care of your appearance.
As we already established, long hair for gents is extremely fashionable once again and braids are the way to elevate your look.
We spoke about the bun on its own and the braids as an individual hairdo, but how about both together?
It is a full-proof formula for success. If you want to take your hairstyle up a notch, try a braided bun.
51. Braided rows
Braided rows or also known as cornrows are a popular hairstyle for black men. They can be short or long and in many styles. They start with a fade, taper, undercut, or even shaved sides to highlight the braided hair on top.
If you're the one doing the braids, make sure you start with towel-dried hair that is still a little bit damp and not completely dry.
Here are some cornrow looks you might like:
52. Viking braids
Centuries ago, the Vikings wore their braids as a badge of honor. Nowadays, people wear them to look more attractive or to showcase their beautiful hair. However, they are still as astonishing as ever and every man should be able to embrace them and feel like a Viking.
Viking braids are actually really easy to do. Here's how:
Separate the hair into three parts
Pull the leftmost section into the center so it now stands in the middle.
Then pull the rightmost one over and into the center.
Got it?
Keep going until the braid is finished.
Of course, there are many types of Viking braids, but we advise you to start from and master the simplest ones first.
53. Samurai topknot
The Samurai topknot or also called the chonmage (丁髷) is a traditional Japanese hairstyle, worn by men. It originated in the Edo period (1603-1867) and was typical for samurai men.
Nowadays the style is extremely popular amongst sumo wrestlers or men who like the samurai culture and like to base their appearance on it.
(pictures)
54. Low ponytail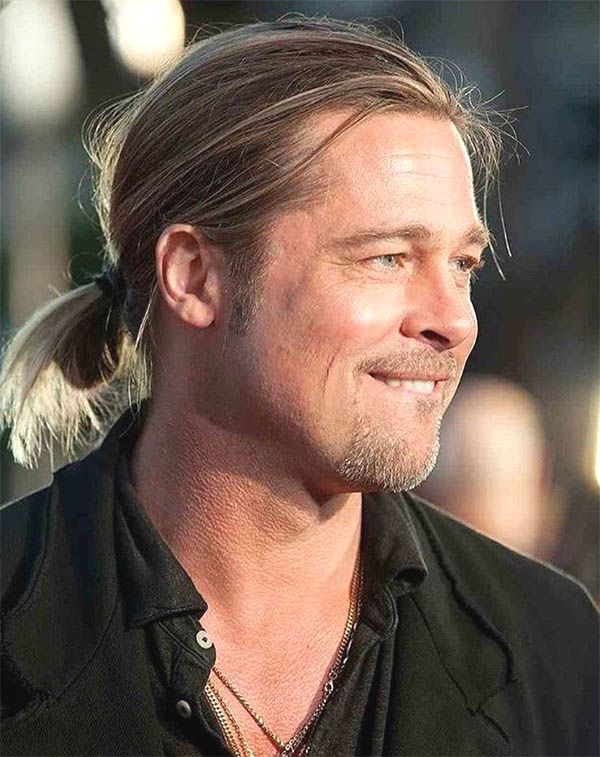 This is possibly the easiest hairdo for men with long or medium hair. It's quick and it looks great.
Simply collect your hair and seal it with a hair tie at the lower part of the back of your head.
Closing Thoughts
So now you have plenty of hairstyles to choose from and we're sure somewhere along the list is hiding your perfect match.
Be wise, be brave and always remember to consult with your barber before choosing any of the ones that require a lot of cutting. Ones you cut those bangs, there's no going back, at least not for another six months to a year, because that's how long it takes to grow medium-length hair.
And whether you choose the pompadour, a mohawk or a simple cut with a fade always wear your look with pride because men's hairstyles aren't less special and important then women's hairstyles, yet we don't talk about them enough.